---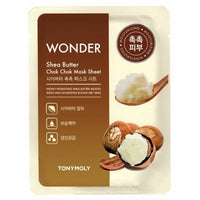 Description
Shea butter (1,000ppm) nutrition emulsion type moisture care mask sheet. 
Soft skin wrapping thick rayon fabric with high essence absorption and fit.
Shea butter essence panthenol and milk extract supply skin moisture with silky skin texture care.
How to Use
After cleansing, prep skin with toner.
Remove the sheet mask from the package and apply to the face, smoothing out air bubbles.
After 20-30 minutes, take off the mask and gently pat in the remaining essence, avoiding contact with the eyes.
Follow up with the rest of your skincare routine.