---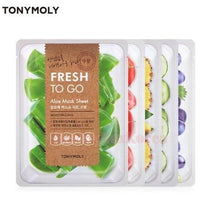 Description
This mask has natural cellulose fibers that ensure a firm but gentle adherence making it suitable for all skin types
Tony Moly fruit and vegetable masks available in following options for your area of focus:
Aloe – Hydrate dry skin
Cucumber– Smooth rough skin
Grape – Smooth skin while tightening pores
Pineapple– Brighten skin tone
Tomato – Brings energy to tired skin
How to Use
After cleansing, prep skin with toner.
Remove the sheet mask from the package and apply to the face, smoothing out air bubbles.
After 20-30 minutes, take off the mask and gently pat in the remaining essence, avoiding contact with the eyes.
Follow up with the rest of your skincare routine.