---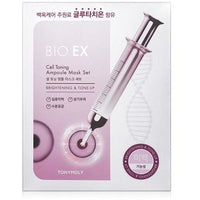 Description
This mask contains Glutathione & Criste-marine stem cell, which makes skin tone look clean and bright. This is a multi-functional mask that offers skin lifting, brightening, moisturizing care, skin elasticity enhancement, and anti-wrinkle treatment. 


How to Use
After cleansing, prep skin with toner.
Remove the sheet mask from the package and apply to the face, smoothing out air bubbles.
After 20-30 minutes, take off the mask and gently pat in the remaining essence, avoiding contact with the eyes.
Follow up with the rest of your skincare routine.