---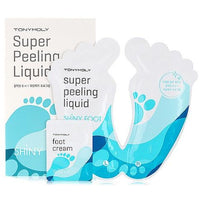 Shiny Foot, a foot care program to make your feet feel smooth and sparkly shine!
Stronger 6- in-1 dead skin cell removal program for feet
Removes stubborn dead skin cells
Enhances moisture
Relieves odor
Keeps feet clean
Soothes irritated skin
Takes care of stressed skin
The foot peeling liquid removes foot calluses from rough feet fast and conveniently. Ingredients such as AHA and BHA help remove excessive foot calluses, and peppermint extracts relieve stress from feet. Urea, argan oil, and lavender keep feet feeling moisturized and pampered even after the foot calluses are removed.
* Shiny foot cream (sample product): this highly moisturizing cream exclusively for feet makes your feet feel baby soft.