---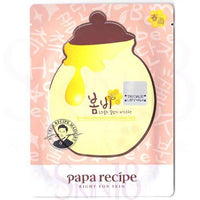 Description
This Bombee Honey mask is designed with all natural ingredients that are full of nutrients to replenish, rejuvenate, and hydrate your skin to protect and prevent irritants. The avocado and parsley are rich in chlorophyll make healthy and elastic skin.  The propolis ingredient replenishes moisture and has nutrients to dry and prevent frizzy skin.  Instead it creates moist and shiny skin. 
*Free from harmful fragrances, dyes, parabens, and sulphates.
How to Use
After cleansing, prep skin with toner.
Remove the sheet mask from the package and apply to the face, smoothing out air bubbles.
After 20-30 minutes, take off the mask and gently pat in the remaining essence, avoiding contact with the eyes.
Follow up with the rest of your skincare routine.