---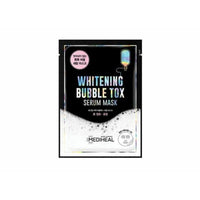 Description
Mediheal's whitening bubble mask that soothes and improves the whitening of the skin.  The soothing bubble serum, creates a massage-like effect to clarify skin. There's no need to rinse off; simply absorb into the skin to achieve a radiant complexion.
How to Use
After cleansing, prep skin with toner.
Remove the sheet mask from the package and apply to the face, smoothing out air bubbles.
After 20-30 minutes, take off the mask and gently pat in the remaining essence, avoiding contact with the eyes.
Follow up with the rest of your skincare routine.