---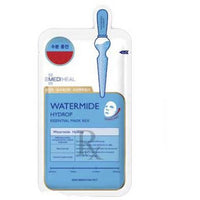 Description
This Mediheal watermide mask works to hydrate and brighten skin and make it silky with the ingredients of Aquaxyl-Xylitylglucoside, Anhydroxylitol, Xylitol, Allantoin and Niacinamide, which have excellent effects in whitening.
The upgraded function 'Clear Fit' has excellent effect in V-zone care.  It tightens facial line and also the clear fit fuction enables sheet transformation by changing the white sheet to transparent type. (Gel Type)
How to Use
After cleansing, prep skin with toner.
Remove the sheet mask from the package and apply to the face, smoothing out air bubbles.
After 20-30 minutes, take off the mask and gently pat in the remaining essence, avoiding contact with the eyes.
Follow up with the rest of your skincare routine.