---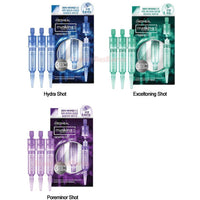 Description
It is a highly concentrated ampoule with 3 times use and 3 bottle centralized management.  It fills skin energy and vigor comfortably while also helps with the whitening and improves wrinkles in the skin.  It comes with a special airtight cap design to prevent contamination due to invasion of external air. 
Three levels of painting to absorb and make skin durable.
A new style of new concept ampoule.
1stBoosting active energy transfer
2ndConcentrating centralized supply of energy
3rdKeeping skin protection film generation
Hydra Shot: Skin Density and Moisture Management
Hydra Complex is formulated and supplies moisture and nourishment deep into the skin to create moist and bright skin.

Its main ingredients are 55% grapefruit extract, sodium hyaluronate, ceramide NP, and a few other ingredients.
Excel Toning Shot: Skin Energy and Gloss Management
The Excel Toning Complex is formulated and supplies sedative and moisturizing ingredients deep into the skin to make it glossy.

Its main ingredients include 73% Silvia leaf extract, tea tree extract, and madecasside.
Pore Minor Shot: Skin Elasticity and Pore Management
Pore minor complex is added and pore tightening ingredients are supplied deep into the skin, leading to smooth and moist skin.

Its main ingredients include 69% Wild geranium extract, trehalose, and allantoin.
How to use
1. After cleansing, unpack the ampoule (if any remains, close cap and store)
2. Make sure the contents are coming out by standing the container at right angle, tilt directly to the face at an angle of about 45 to 60 degrees
3. Place 2-3 drops of contents on to cheeks and forehead
4. Gently massage into skin so it absorbs
5. Repeat steps 2-4 twice more to mask the skin more perfectly.