---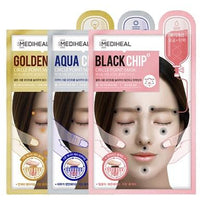 Description 
Mediheal Acupuncture masks combines the optimal mix of natural cotton Bemliese fabric and ampoule to provide effective skin care for each skin concern.  This is a very unique mask htat comes with raised bumps to create an acupuncture effect when pressed on skin.  The chips are made of mineral multi-stone for pressure massage that helps to stimulate and brighten the skin.  This rich moisture mask brightens the skin, improves wrinkles, keeps the skin hydrated and glowing, and is made for all skin types.
How to Use
After cleansing, prep skin with toner.
Remove the sheet mask from the package and apply to the face, smoothing out air bubbles.
After 20-30 minutes, take off the mask and gently pat in the remaining essence, avoiding contact with the eyes.
Follow up with the rest of your skincare routine.