---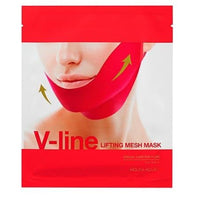 Description
With age, the skin of the chin area becomes less resilient and elastic. This mask will help you restore your skin's firmness and former elasticity. It helps combat the first signs of skin aging, restoring healthy color and firmness.
This modeling mask for face line correction has a noticeable lifting effect, toning the skin, while lifting your neck and chin. The mask instantly restores firmness and softness to your skin, moisturizing it, and providing an anti-aging effect.
The mask can be easily fixed behind the ears, is easy to use and is entirely free from discomfort.
1. After washing the face, tidy up skin texture with toner
2. Lightly rub the pouch before opening. Take out mask and evenly place on face while aligning it with the eyes and nose.
3. Remove the sheet after 10-20 minutes and lightly tap the face to promote the absorption of the remaining essence into skin.