---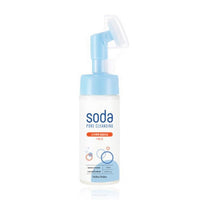 Description
Contains baking powder, which removes sebum and blackheads clearly.  Also contains mineral water, olive and argan oil, which brighten up skin tone, restore elasticity and retain moisture, leaving your face vital, firm and dewy.  It's equipped with a cleansing brush that can effectively cleanse and massage your face.  The cleansing brush can be dried off easily, so you don't have to worry about the microbial growth.
How to use
1. Pump for 2-3 times and take moderate amount of foam with wet hands.
2. Spread the foam all over the face and massage with the brush gently, especially for the part that has lots of blackheads and dead skin cells.
3. Rinse with warm water.