---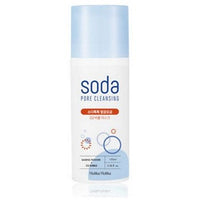 Description
Contains baking powder that cleanses sebum and blackheads neatly.  When applied to the skin, it becomes rich and fine bubbles appear when it touches the air. It cleans the pores between the curved areas and the fluffy areas, which are usually difficult to manage completely by hand cleansing.  Gold kiwifruit extract removes dead skin cells and tea tree extract cleans skin waste.


How to use
1. Pump in an appropriate amount and apply thickly to areas except for eyes and mouth.
2. When the bubble comes up, massage it with your finger.
3. Rub intensively on blackhead or keratinized areas.
4. Clean the bubbles thoroughly with lukewarm water.