---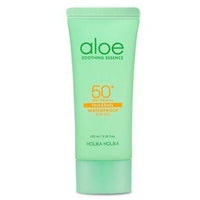 Moisturizing waterproof sunscreen gel with aloe vera extract prevents the appearance of oily luster, controls the functioning of the sebaceous glands.
Preserves and maintains the freshness of the skin tone.
Soothes irritated and inflamed areas of the skin.
Does not contain alcohol, can be applied to the face and body.
Blocks UVA and UVB rays - SPF SPF50+ PA ++++. Suitable for all skin types.
Aloe vera extract provides multi-level skin protection.
Polysaccharides of aloe, which are distributed over the surface of the skin, create a moisturizing film.
In addition, the polysaccharide film protects the skin from UV rays. The extract contains over 160 components.
These are amino acids, vitamins, minerals. Has bactericidal and bacteriostatic properties, stimulates blood circulation, moisturizes the skin and helps it retain moisture, relieves inflammation.
Effective for fading and acne prone skin. Has a powerful healing and regenerating effect, increases the elasticity of the skin thanks to the content of a special substances in it - lignins.
It helps to penetrate moisture and enzymes into the deep layers of the skin, mean while strengthening the metabolic processes.
Sunscreen gel also contains houghton extract, asian citadel extract, chamomile extract, calendula extract, sunflower oil, spanish sage extract and avocado extract.