---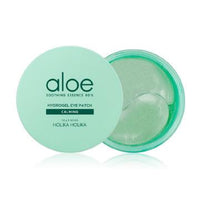 Description
A hydrating eye patch infused with 80% Aloe Vera extract instantly soothes and awakens fatigued skin with a burst of hydration.


 
Formulated with naturally-derived extracts including organic aloe, lemon balm, centella asiatica to promote a youthful look while leaving a cooling sensation.


 
Free from alcohol, paraben, phenoxyethanol, Benzophenone, Triethanolamine, PEG, mineral oil, BHT, dimethicone.


 
HOW TO USE
1. After washing the face,
apply toner to the skin, and remove
the eye patch using the spoon contained.
2. Apply the eye patch around the eyes.
3. Remove the mask after 15 to
20 minutes, and tap lightly with
fingertips to absorb the residue of the essence.