---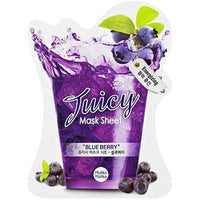 Description
This healing and soothing Blueberry Juicy Mask Sheet neutralizes oil levels to clear and brightens skin. Packed with vitamins and minerals, the skin is soaked with nutrients to counteract skin irritations and create a healthy clear complexion.
How to Use
After cleansing, prep skin with toner.
Remove the sheet mask from the package and apply to the face, smoothing out air bubbles.
After 20-30 minutes, take off the mask and gently pat in the remaining essence, avoiding contact with the eyes.
Follow up with the rest of your skincare routine.