---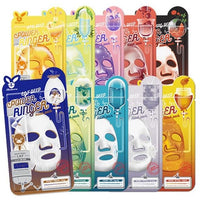 Description
The Elizavecca power ringer masks provides different benefits, depending on what your skin needs. These are meant to be used daily but it will take me awhile to get through them since I prefer variety. The different types are Vita Deep (yellow), Tea Tree Deep (light green), Fruit Deep (purple), Collagen Deep (red), Red Ginseng Deep (black), EGF Deep (blue), Centella Asiatica Deep (dark green), Aqua Deep (teal), Milk Deep (gray), and Honey Deep (orange). I'm glad that they came in different colors for ease of identification.
How to Use
After cleansing, prep skin with toner.
Remove the sheet mask from the package and apply to the face, smoothing out air bubbles.
After 20-30 minutes, take off the mask and gently pat in the remaining essence, avoiding contact with the eyes.
Follow up with the rest of your skincare routine.