---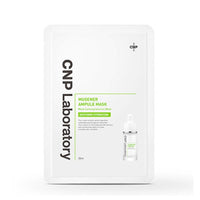 Description
The CNP mugener ampule mask contains active ingredient called glycosaminoglycan extracted from nature to intensively provide calming and moisturizing effect to make a healthy skin condition.
How to Use
After cleansing, prep skin with toner.
Remove the sheet mask from the package and apply to the face, smoothing out air bubbles.
After 20-30 minutes, take off the mask and gently pat in the remaining essence, avoiding contact with the eyes.
Follow up with the rest of your skincare routine.